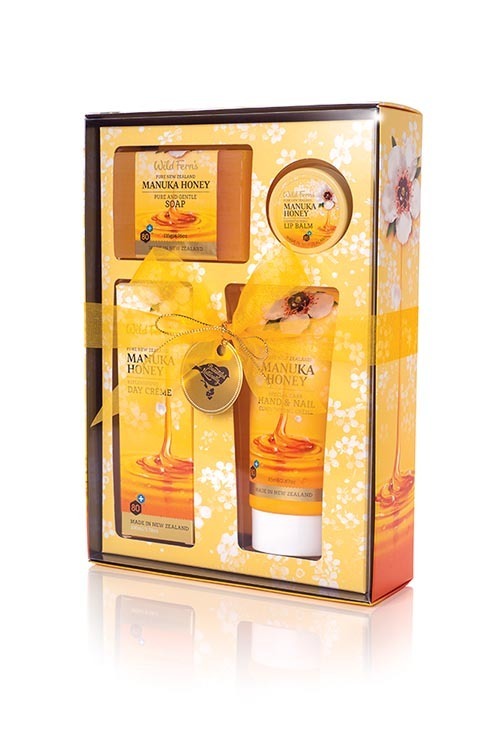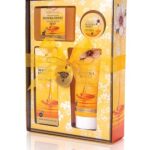 Manuka Honey Gift Box
$57.20
Description
Additional information
Description
Hand & Nail Creme 85ml
Filled with over 10 skin loving natural ingredients
this quick absorbing hand crème will leave you with
conditioned cuticles and silky smooth hands.
Contains premium certified Manuka Honey 80+
blended with Prosina, a hydrolysed keratin derived
from New Zealand sheep's wool. This proven
combination improves the structure and strength
of your nails. It also improves the hydration and
elasticity of your skin and cuticles. Shea Butter
combined with the oils of Sweet Almond, Olive,
Hazelnut and Orange Peel will deeply nourish,
restoring elasticity and smoothness. Added
Chamomile and Passionflower helps to calm, soothe
and heal tired hands.
Directions
Apply as often as required on and around nails,
cuticles and hands. Perfect for during the day.
Other beneficial ingredients
Mango Seed Butter and Green Tea
Soap 135g
A luxurious triple milled soap to ensure a long
lasting lather blended with antibacterial premium
certified Manuka Honey 80+. Soothes, moisturises
and heals, leaving your skin soft and refreshed. The
beautiful fragrance will leave you wanting more.
Directions
May be used on hands or body but not
recommended for your face. Lather from top to toe
and rinse.
Lip Balm 15g
One of our most popular products, this ultraconditioning
lip balm will help to seal in moisture
and condition dry cracked lips. Enhanced with
premium certified Manuka Honey 80+ and blended
with Vitamin E, Shea Butter, Sunflower Seed Oil and
Bees Wax, these ingredients all work together to
protect, hydrate and soften your lips. Wild Ferns lip
care products contain natural Bees Wax which is
exceptionally moisturising. This lip balm is lovely
used at night to moisturise and heal your lips while
you sleep.
Directions
Apply to your lips as needed
Other beneficial ingredients
Sweet Almond Oil, Meadowfoam Oil
Day Creme 100ml
A beautiful crème containing premium certified
Manuka Honey 80+ for daily hydration and
nourishment. A potent blend of essential fatty
acid rich oils of Evening Primrose, Avocado, Olive
and Raspberry Seed provide instant hydration
and softness, while Chamomile helps calm and
soothe irritated skin for a healthier, more radiant
complexion. Fantastic option for those not wanting
sunscreen included in their moisturiser. Suitable for
all skin types, especially dry and mature.
Directions
After cleansing apply a small amount of crème and
gently smooth in an upward direction onto the face
and neck.
Other beneficial ingredients
Vitamin E, Bee Pollen
*Price shown excludes NZ GST

Additional information
| | |
| --- | --- |
| Weight | 0.80 kg |
| Dimensions | 0.00 × 0.00 × 0.00 cm |
SIGN UP TO OUR NEWSETTER TO HEAR ABOUT NEW PRODUCTS
---
Store Hours
Monday — Saturday
(9:00 am — 5:00 pm)
Sunday
(10:00 am — 4:00 pm)