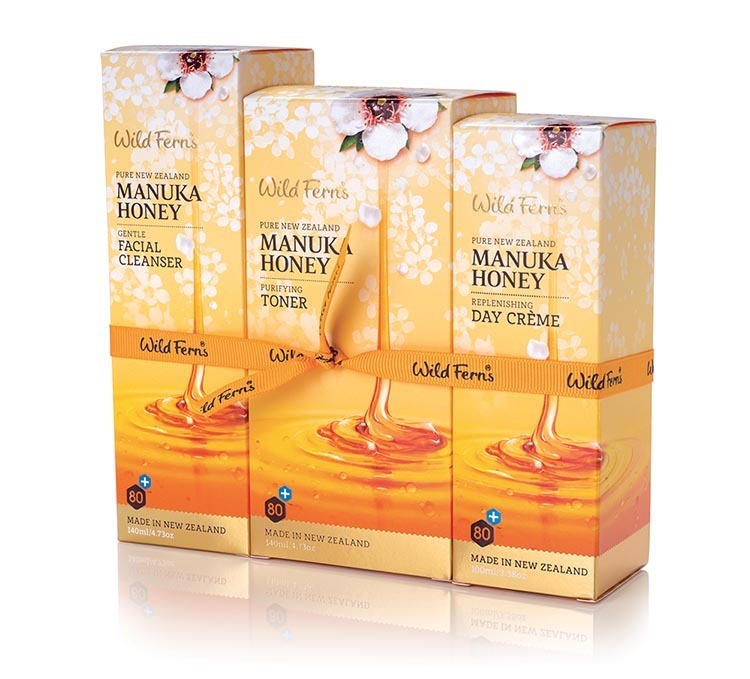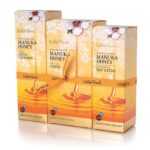 Manuka Honey 1,2,3 Facial Set
$56.40
Description
Additional information
Description
Facial Cleanser 140ml
A crème cleanser with premium certified Manuka
Honey 80+ that works deep in the pores without
stripping your natural oils. Calendula Oil's soothing,
healing and softening properties combine with
toning Juniper Essential Oil to remove impurities
and makeup without damaging the skin's natural
protective barrier. Rich and nourishing Avocado
Oil immediately replenishes to leave skin soft and
smooth after every wash. This cleanser will leave
your skin feeling clean and refreshed.
Directions
Massage into your face and neck using gentle
circular motions. Wipe off or rinse with warm water.
Use daily morning and night.
Other beneficial ingredients
Soybean Oil, Vitamin E, Cucumber Extract, Echinacea
Extract
Toner 140ml
This alcohol free toner contains the beneficial
qualities of premium certified Manuka Honey 80+
blended with Aloe Vera, Bilberry and Witch Hazel.
This purifying toner thoroughly removes remaining
traces of oil, makeup and dirt and prepares the
skin to maximise the benefits of your moisturiser.
These natural ingredients combine to stimulate
the circulation, firm the elasticity of the pores and
rejuvenate the skins cells. Manuka Honey helps
eliminate impurities and assists in the healing
of blemishes. Leaves the skin feeling fresh and
revitalised.
Directions
After cleansing apply toner to cotton wool ball and
wipe gently over the face. Allow to dry naturally. Use
once or twice daily depending on your skin type.
Other beneficial ingredients
Neroli Oil, Oat Bran Extract
Day Creme 100ml
A beautiful crème containing premium certified
Manuka Honey 80+ for daily hydration and
nourishment. A potent blend of essential fatty
acid rich oils of Evening Primrose, Avocado, Olive
and Raspberry Seed provide instant hydration
and softness, while Chamomile helps calm and
soothe irritated skin for a healthier, more radiant
complexion. Fantastic option for those not wanting
sunscreen included in their moisturiser. Suitable for
all skin types, especially dry and mature.
Directions
After cleansing apply a small amount of crème and
gently smooth in an upward direction onto the face
and neck.
Other beneficial ingredients
Vitamin E, Bee Pollen
*Price shown excludes NZ GST
Additional information
| | |
| --- | --- |
| Weight | 0.50 kg |
| Dimensions | 20 × 20 × 20 cm |
SIGN UP TO OUR NEWSETTER TO HEAR ABOUT NEW PRODUCTS
---
Store Hours
Monday — Saturday
(9:00 am — 5:00 pm)
Sunday
(10:00 am — 4:00 pm)