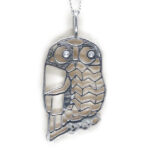 Sterling Silver Morepork Pendant
$73.00
Description
Brand
Additional information
Description
Sterling silver morepork owl pendant with silver-plated dressing chain.  Designed by Blenheim designer Jamie Sun.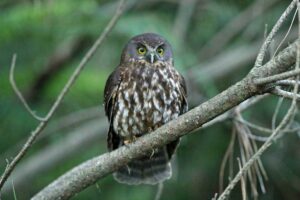 The morepork is a small owl that lives in New Zealand and Tasmania. While morepork is the most common name, it also has some other names, such as "Ruru" and Tasmania Spotted Owl. In Māori tradition, the morepork was seen as a watchful guardian. It belonged to the spirit world as it is a bird of the night.
Supplied with a black leathered jewellery box.
Size: approximately 37mm long
SIGN UP TO OUR NEWSETTER TO HEAR ABOUT NEW PRODUCTS
---
Store Hours
Monday — Saturday
(9:00 am — 5:00 pm)
Sunday
(10:00 am — 4:00 pm)