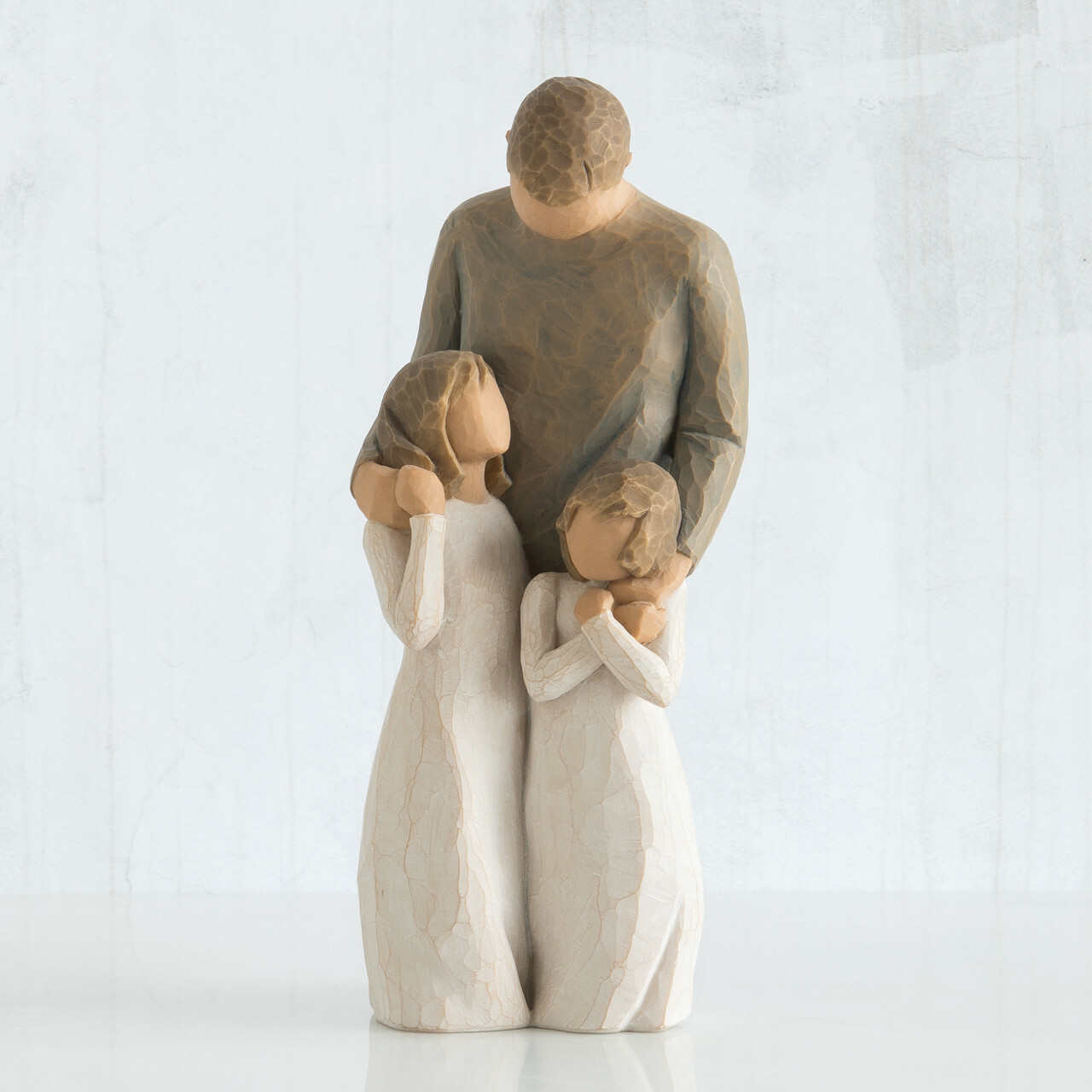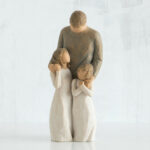 Willow Tree Figure "My Girls"
$112.10
Description
Brand
Additional information
Description
My Girls, a Willow Tree resin figure designed by artist Susan Lordi. A gift to celebrate the loving relationships that develop between parents and children.
8"h hand-painted resin figure
The figure of standing man in blue/grey shirt and dark pants, with arms around two young girls standing in front of him
Packaging box includes enclosure card for gift-giving
Dust with a soft cloth or soft brush. Avoid water or cleaning solvents
"This piece was directed by the models. The poses that the girls naturally assumed showed their relationship with their dad much better than I could have instructed them. Their father was the anchor — and the girls fluttered around him. I got a sense of how the girls saw him as strong and reassuring. They looked at him with a 'my dad can do anything' look. The dad was clearly having fun being with his daughters. I wanted to make this sculpture a two-way piece — the girls look to his strength and stability, and he looks to them as his greatest source of joy. I think the beauty of a good father/daughter relationship is in its duality. I hope the sentiment can be read from either perspective — father to daughters, or daughter to father." —Susan Lordi
Story of Willow Tree:
Willow Tree sculptural art forms beautifully express love, closeness, healing, courage, hope… all the emotions of a life well-lived. Artist Susan Lordi hand carves the original of each figure from her studio in Kansas City Missouri. Pieces are cast from her original carvings and individually painted by hand. Expression is revealed through gestures only… a tilt of the head, placement of the hands, a turn of the body. The simplicity of form and absence of facial features signify Willow Tree. It is Susan's hope that these pieces be meaningful to both giver and receiver.
Additional information
| | |
| --- | --- |
| Weight | 0.8 kg |
| Dimensions | 10 × 10 × 10 cm |
SIGN UP TO OUR NEWSETTER TO HEAR ABOUT NEW PRODUCTS
---
Store Hours
Monday — Saturday
(9:00 am — 5:00 pm)
Sunday
(10:00 am — 4:00 pm)